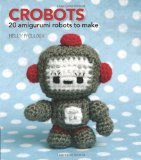 Amigurumi (which is Japanese for cute, little stuffed dolls) is the latest and hottest craft craze among many trendy crafters.
One such type of Amigurumi are cute or scary-cute robots. To help you explore a little bit about these, I've found some photos on a few other blogs, showing robots that crocheters have made and I've also included some info about some books of patterns to make your own little crocheted robots, if you'd like to go on that crochet adventure.
If you know of another blog showing a photo of a crocheted robot, feel free to post a link to it by leaving a comment, including the link, at the end of this blog post, so more crocheters will be able to find and enjoy seeing it.
---
A Blog With a Robot Amigurumi Photo – Comments are written in French but there's a Google translate to English bar across the top of the page, if you need that. Or you can just enjoy the photos.
I love this robot's uneven button eyes. Cute effect.
Here's that post:
Un petit robot au crochet avec des boutons pour les yeux. …
Following is a link to another photo to enjoy, of a pink crocheted robot posted by a crocheter in Spain. The text is in Spanish.
Here's that post:
Fábrica Amigurumi. domingo 9 de mayo de 2010. …
---
Books of Patterns to Crochet Robots
The pattern for each design is simple enough for crochet beginners, but can also be adapted to keep expert crocheters interested. It's 96 pages in paperback, published in 2009.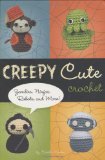 Another book that has some patterns for robots is Creepy Cute Crochet: Zombies, Ninjas, Robots, and More!
by Christen Haden.
The description for this book says that "the dolls in Creepy Cute Crochet eat your typical amigurumi for breakfast". There are more than 25 patterns for zombies, ninjas, Vikings, vampires, aliens and robots. The patterns are easy to follow and have step-by-step diagrams. Each pattern is ranked according to difficulty. There's fun commentary to go along with the patterns.
These two books are both available at Amazon
.
Twitter It: If you would like to let other crocheters or Amigurumi enthusiasts know about this post, click on the Share/Save button below to share the link through Twitter, Facebook, Delicious, Digg and so forth: