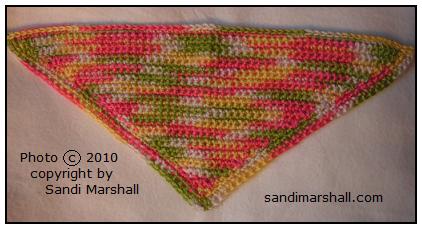 There are various ways to crochet a basic triangle shape. Here are details for two ways (made in rounds or made in rows). The made in rows (how to crochet a triangle) pattern is on this page. I have also given a link on this page to one of my patterns for a triangle made in rounds.
Made in Rounds:
It can be started in the center and then worked in rounds.
Easy Triangle Shaped Motif – Free Pattern (Crocheted in Rounds) – I designed this motif while I was the crochet guide at about.com … the link takes you to that pattern on about.com (they could potentially remove the pattern from their site at any time, without notice).
Or Made in Rows: (as shown in the photo at the top of this page)
Another method is to make a length of starting chain that will give you the size you want for one of the sides of the triangle, then work in single crochet and use decreases to form the triangle shape.
With this method, it's a little more difficult to calculate the dimensions you will end up with because a starting chain measures differently before you work any stitches into it … but with a little trial and error you can come up with the size you're looking for.
Also, this method results in one longer side and two sides that are shorter than the first side. If you're looking for the exact same measurements on all three sides of the triangle, this method is probably not going to give you the results you are looking to get.
However, this type of triangle does work very well for many uses. Following are instructions written out, as an example.
Triangle shape method of starting with the long edge and decreasing –
This triangle shape is made all in single crochet, with a decrease made at the beginning and at the end of each row, to form it into the shape of a triangle.
Someone requested a triangle pattern that would be 17 – 18 inches, so I have crocheted an example that would result in about that size on the long edge.
Materials used in the example:
TLC Essentials Multicolor yarn –
color Coraline (worsted weight)
US size H hook


TLC Essentials yarn is available online at the JoAnn Store Online
and Create For Less
has the Coraline color in Red Heart Classic yarn. The links will open in a new window and will take you directly to the pages with that yarn.
The price at Create For Less is a lower price because they sell yarn in a bag with a number of skeins in it. The price they show on the yarn page is for one skein and they tell what multiple you need to buy to get that price per skein (for Red Heart Classic yarn, color Coraline, the multiple is 6 skeins in a bag).
JoAnn: TLC Essentials Yarn-Coraline

Create For Less:
Coats & Clark Red Heart Classic Yarn 4 ply Coraline
I used a starting chain of 58 chains for a finished size of 17 inches on the longest side and 10 inches on each of the two shorter sides.
For 17 1/2 inches x 10 1/2 inches on each of the two shorter sides, add one round of single crochet all the way around the outside edge.
For 18 inches x 11 inches on each of the two shorter sides, add two rounds total of single crochet all the way around the outside edge.
In case you want to get the exact same size as my example, here is my gauge (otherwise, my gauge is not important for this pattern as you will do your own experimenting to result in whatever sizes you're looking to end up with).
Using worsted weight yarn and an H hook,
My gauge is: 7 sc = 2 inches, 9 rows = 2 inches.
You can use any size of thread, if you want a little or tiny triangle, or any weight of yarn for regular size items (using a crochet hook size that corresponds to the size of thread or weight of yarn that you are using).
These directions are written in American English crochet pattern terms.
Knowledge Needed For This Pattern:
How to make a decrease over two single crochet: Insert hook in first sc to be worked for the decrease, yarn over hook, pull yarn through the stitch (leave this loop on the hook), insert hook in the second sc to be worked for the decrease, yarn over hook, pull this loop through the stitch, yarn over hook, pull yarn through all three loops on the hook (you have just made one decrease in single crochet).
ch = chain, ea = each, sc = single crochet
Starting Chain: Leaving a length of yarn dangling beyond the first chain to weave in later to secure the end, use whatever length of starting chain will give you the size you want for the longest edge.
Row 1: Working in one loop of each chain (so you will have a remaining loop of each chain to use later, if you choose to add an outside round of single crochet to the finished triangle), sc in 2nd ch from hook, sc in ea ch across.
Row 2: Note – see above for how to decrease. ch 1 to turn, make a decrease over the first two sc of the row, sc in ea sc across until only 2 sc remain, then make a decrease over the last two sc of the row.
Additional rows: Repeat Row 2 until only one sc is left. Then end off and weave in ends.
Note: If you find that you have 3 sc left in the next to the last row, just decrease over the first two sc then sc in the last sc. For the last row, ch 1 to turn, make a decrease over the two sc that are left.
If you want to make one or two rounds of single crochet all the way around the outside edge, make one sc in the end of each row along the two shorter sides and one sc in each remaining chain of the starting chain when you are working along the long side. Be sure to do a number of chains when you are going around any of the corners, so the piece will not curl on the corners (2 or 3 chains will work for each corner).
Copyright, Terms of Use: Instructions written by Sandi Marshall. This article (pattern) is copyright 2010 by Sandi Marshall.
The url of this page is: http://www.sandimarshall.com/crochet-triangle-shape/
Linking to this Page: Links to this page are welcome (you don't have to ask me first, you can just go ahead and link to it). You may give the url of this page to others so that they may come to this site for themselves and benefit from everything this site has to offer. Thank you very much.
Another Triangle Free Crochet Pattern on This Site: How to Crochet a Long Tall Isosceles Triangle Shape. For those who are reading this on their printout of this pattern: that url is
http://www.sandimarshall.com/long-skinny-tall-isosceles-triangle-free-crochet-pattern/