Pattern by Sandi Marshall
The center of this scarf is in stockinette stitch, with a border of all knit stitches on both side edges, making the scarf naturally curl under on the edges, thus giving it a tube look (without actually being a tube).
I knitted it with Red Heart Super Saver Peruvian Print yarn because I was curious to see how long the color changes would go with this yarn before the color pattern would repeat itself.
So far, it's the length you see in the photo and the color pattern didn't repeat yet!
This is a very interesting yarn!
Materials
Worsted weight yarn – I used Red Heart Super Saver color Peruvian Print, in the example.
I used US Size 8 knitting needles, however, it's not essential for the scarf to be any certain width so you can certainly use a different size needles, if you prefer.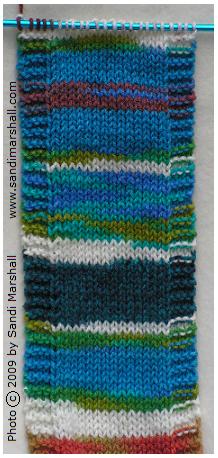 The length of the scarf will be determined by the number of rows that you decide to knit.
Abbreviations:
K = knit, P = purl
Instructions:
Cast on 23 stitches.
Row 1: Knit each stitch. (This is the right side.)
Row 2: K 4, P 15, K 4. (This is the wrong side.)
Repeat Rows 1 and 2, as many times as needed to reach the length that you want the scarf to be, then cast off.
The photo on the right shows the full rows of the scarf, while the photo above shows the scarf with the edges curled under (this just naturally happens due to the border of all knit stitches on both edges).

The photo on the left shows the back of the scarf, so you can see how the side edges curl toward the back to form the look of a tube (but the edges are not actually joined together the way a true tube would be).
When made with the materials that I listed, the scarf is about 5 3/4 inches wide when flat and about 3 inches wide show when the side edges curl toward the back.
Gauge is not important for this project since scarves came in an endless variety of widths and yours will be just fine, no problem, if it varies from the measurements of my scarf example.
Just in case, for some reason, you think you want your scarf to be very close to those same measurements, though, the gauge for the example is 5 rows = 1 inch and 4 knit stitches = 1 inch.
I hope you will just have relaxing fun knitting this scarf, though and not worry too much about gauge.
copyright 2009 by Sandi Marshall.
You are welcome to print out this page for your own use.
You can link to this page without asking me and feel free to give the URL for this page to others who would enjoy it … but do not copy it to be reprinted elsewhere on or off the Internet.
My Home Page: www.sandimarshall.com
Following is a Buy button that you can click if you would like to find out more about this color of yarn or purchase some at the Internet store Create For Less: