Johnny Depp as Mad Hatter
Wearing a Frock Coat
With the movie Alice in Wonderland 2010, starring Johnny Depp as the Mad Hatter, a renewed interest has surfaced about the authentic garments of the era that is portrayed in the film.

Of special interest is the men's frock coat style that Johnny Depp's character wears in the story. I found a source for a sewing pattern for anyone who may be looking to make this type of garment.

<--- (click image for movie poster info)
A coat, jacket or vest like this would be needed for events such as a school play, a theater production, costumes for historical reenactment fairs and, we must not forget to mention one of the other popular reasons to wear these: for Halloween costumes. The Mad Hatter is likely to be a popular choice for Halloween costuming this coming Fall season and you can save yourself some money by making your own garments for dressing in character for those parties and celebrations.
---
The Sewing Pattern
Men's Frock Coats Single and Double Breasted & Two Vests Pattern
(1850 – 1915)

The timeframe for this coat fashion style was the years 1850 – 1915. The sewing pattern contains patterns and directions to make: Men's Single Breasted and Double Breasted Frock Coats and 2 Vests. (Men's Prince Albert Skirted Frock Coats with Two Vests ~ 1850 – 1915).
Men's Sizes 34-58 are all included in the pattern envelope.
Both the Double and Single Breasted Frock Coats and Vest A are exact copies of an antique frock and matching vest circa 1880. Vest B is a copy of a vest circa 1850.
The silhouette of all garments are appropriate for the time period 1850-1915. (Double Breasted Frockcoat, Single Breasted Frockcoat, Gambler's Coat, Western Gambler's Coat, Wild West Coat, Wild West Frockcoat, Gunslinger Frockcoat).
Excellent for Johnny Depp's Coat and Vest as the Mad Hatter in Tim Burton's Alice in Wonderland, 2010. Mad Hatter Coat, Mad Hatter Vest.
You can read more information on the sewing pattern or purchase it, at the following link:
Men's Frock Coats Single and Double Breasted & Two Vests Pattern (1850 – 1915)
---
Or Buy Already Made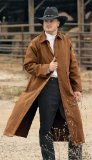 If you are looking for a ready-made frock coat instead, here is an example of an Old West Duster Coat
that is similar in style (photo shown on the right). I've included the info on it here, in case you were looking for this style of western men's coat.
Link: Online Source For This Duster Coat
---
Mad Hatter Hats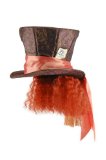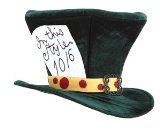 You may need a Mad Hatter hat to complete the look. If so, you can read a description of this one at this link: Alice In Wonderland – Classic Mad Hatter Hat Adult
… it is an adult size hat and is an officially licensed Alice in Wonderland TM product. (photo on the left)
Another hat to choose from is the Alice in Wonderland Mad Hatter Hat with Hair, Disney
(photo on right).
---
The Alice in Wonderland 2010 Movie
Of course, you may want to watch the movie too (for the first time or again), DVD or the Blu-Ray editions of Tim Burton's 2010 Alice in Wonderland film, with Depp Mad Hatter.
Link: Alice in Wonderland – DVD
Link: Alice in Wonderland [Blu-ray]
---