I know how many of you enjoy sharing photos on Pinterest, (me too), so here is a photo that is just right for pinning: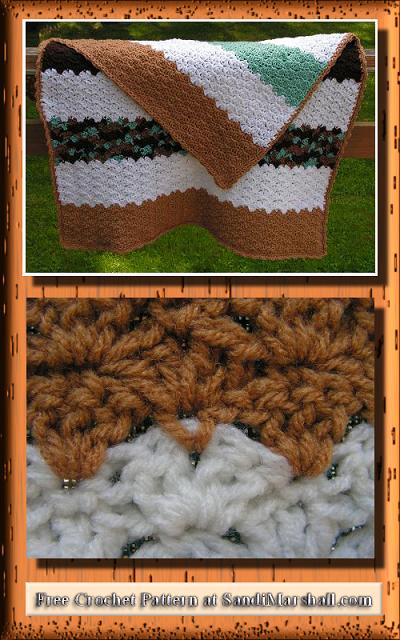 If it's easiest for you, feel free to repin it from my Pinterest board of free crochet pattern photos.
The pattern:
Click here to go to the free pattern page
.
The Fun Shells Wide Stripes blanket shown is just a nice size for many purposes. I made it for an 8 year old girl and she loves it. It is not only her favorite blanket to spread out on her bed for sleeping but she carries it out to the living room when she is going to being watching tv in the evening with her family, takes it with her if she has a sleepover at a friend's house and so forth. It is a nice size for taking along anywhere.
The size is perfect for children but it is also great as a throw size afghan for keeping folded on the back of the couch, ready for any family member or visitor to use whenever a little extra warmth is needed. Wrap it around shoulders, fold it double on a lap, spread it out to cover the length of legs and warm them up when sitting and on and on. Many uses for this afghan size.
I also found it to be fun to crochet, thus the name: Fun Shells. Make it all in one solid color or mix it up with other color combinations that you dream up.
Get the free pattern and join the fun.