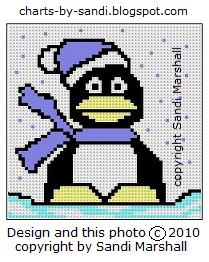 Penguin Free Cross Stitch Chart
I put my imagination to work and designed this needlework chart of a little penguin sitting on a patch of ice, bundled up for the cold in a scarf and winter hat.
It is available to print out on my Charts by Sandi blog.
Link: Free Chart
I thought it would be interesting to see what other craft projects are available in penguin themes.
I compiled these results below for you to enjoy browsing.
Products for Crafts in Themes of Penguins:

Snow Penguins Stocking Kit – Cross Stitch
Kit for Laura Doyle's counted cross stitch stocking includes 14-count white Aida cloth, cotton floss, felt backing, needle, chart and directions. Approx. 15″ long.
Novelty Cotton Sewing Fabric – Penguins
This cotton fabric with a penguin scene print is 43" Wide, 100% Cotton, Machine Wash. Made in The USA.
The image on the right shows a section of the overall scene. To see the whole scene, click on the image on the right to go to a page with a larger photo and more complete look at the fabric design.

Dill Buttons 18mm Shank Penguin Black/White 2 pc
Dill Buttons offer an exciting line of buttons that you will enjoy. They include a large variety of shapes, colors and multiple sizes. These buttons are available in both shanked style or sew-thru. They are great to use for all your sewing projects, so whether you create fashion wearables or handy accessories, or just need need unique embellishments, check out the full line of Dill Buttons. 18mm Shank Penguin Black/White 2 pc – Black body with White belly, washable or dry cleanable.



JoAnn Craft Store online has some cute fabric with penguin designs, dimensional stickers of penguins and a penguin stuffed animal latch hook kit.

Click on the banner on the left and then type the word penguin into the search box on that site, click the go beside the search box and you'll get a page showing the various penguin theme items that are available there.

Skullduggery 07660 Penguin Cast And Paint Modeling Kit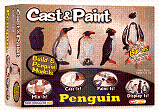 The penguin cast and paint modeling kit is a fascinating educational and creative introduction to penguins. The rockhopper, emperor, african and king are four intriguing penguins that peek the interest of people around the world. Discover how these birds live in the wild. Learn about their individual habits and life cycles.
Cast and paint the bodies of each of these birds. Add magnets to each cast for display on any metal surface. With additional casting material unlimited casts can be made for gifts for friends and family. Become a penguin expert. Blopens are included for a custom paint job. Glue and magnets are provided to display your creations.
Also see Penguin Theme Party Goods
---
More to find? See Online Catalog Product Finder