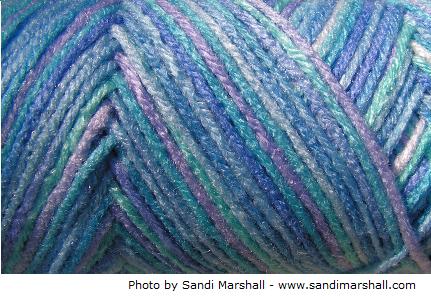 If you enjoy working with multicolor yarns, here's a few examples of the way that this color Ocean looks when crocheted or knitted and a close look at the color changes in the yarn skein.

In Single Crochet:
This give you an idea about how many stitches are made in single crochet before the yarn changes to the next color shade.
In Double Crochet: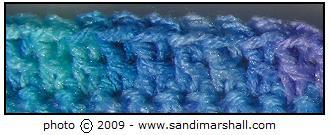 Double crochet stitches are taller, using more yarn for each stitch than would happen in single crochet, so, naturally, the color changes will be closer together when crocheting rows of double crochet with this multicolor yarn.
A Single Crochet Row Followed by a Double Crochet Row:

A Swatch Knitted in Stockinette Stitch: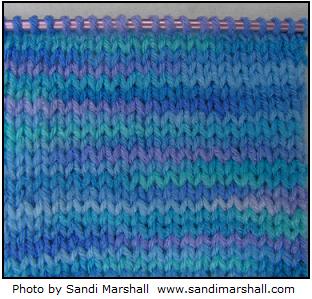 For the photo above, I knit all right sides rows and purled all wrong side rows (called stockinette stitch). For this swatch, I cast on 23 stitches on size 6 knitting needles. I like the color patterning that results with this Ocean Multicolor yarn.
Crocheted Shells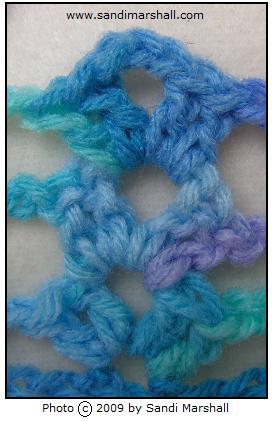 Here's one more crocheted example: double crochet shells that are made of (2 dc, ch 3, 2 dc) all made in the chain space in the center of the previous shell.
I hope you've enjoyed browsing these photos to see how the multicolor yarn Ocean looks when made in various types of stitches.
Resource Links for this yarn:
JoAnn Online:
Red Heart Super Saver Yarn-Ocean Multicolor
Create For Less:
Coats and Clark Red Heart Super Saver 4 ply 5oz Ocean
Photos copyright by Sandi Marshall.
Blog Homepage: sandimarshall.com
Info and Photos of Other Yarn Colors, Types and Brands