Here's a fun project, making a cold stopper in a snowman theme.
An item to stop a draft is called by many different names, such as door draft dodgers, blocker stoppers, draft guards and draft stops, just to name a few. Your family might have your own personal favorite name for it.
Snowman and Santa Draft Stopper Sewing Patterns
Featured here is a pattern from Kwik Sew Crafts, where you would purchase your own materials for making the snowman plus there is the option of a different design in a felt kit for anyone who prefers to have all the materials provided with a pattern.
Kwik Sew K3279 Snowman and Santa Draft Stopper Sewing Pattern, No Size
This includes patterns for a Snowman and a Santa.
For the Body, Boots, Mittens and Pants it is suggested to use woven or knit fabrics, cotton types. For the Hat, Scarf, Jacket, Legwarmers, Hair and Beard it is suggested to use heavy stretch knits or Polarfleece.
The Snowman and Santa draft stopper each have a lining to be filled with sand or cat litter in the legs. The body and head are stuffed with polyester fiberfill. The snowman has buttons for eyes, mouth and on the front. The scarf and hat are made from fleece. Santa has stitched eyes, and the moustache, beard and hair are from fleece. The jacket and hat are trimmed with fake fur. Optional belt with buckle.
Click for more info
Snowman Door Draft Felt Applique Kit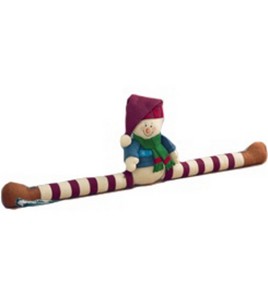 This figure is made with pretty felts, using easy patterns and step-by instructions.
The finished door draft guard measures: 10 1/2" x 39".
Easy patterns and instructions are included, to assemble using craft glue and simple stitching.
Snowman Door Draft Felt Applique Kit
Images used with permission of the online stores featured.
---