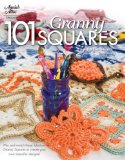 I've gathered some snippets of blog posts from crocheters around the world, who posted something about granny squares today. What a fun blog journey, seeing what's being said worldwide on the subject of granny squares on May 25, 2010.
---
On the blog For The Love of Crochet Along, Kathy Ann, in Australia, shows another use for granny squares in making a colorful tote bag. Looks like a super way to
use up left-over yarn too.
– – -That blog post:
---
At the blog
Ribbons Undone
, Victoria, in the United States, says she has been thinking granny squares lately and shows us the yarn colors she's thinking of using to crochet a blanket (using Stitch Nation yarn by Debbie Stoller). She's wondering if any of her blog readers have used this yarn yet and is asking for ideas for her blanket and input on the colors she has in mind.
– – -That blog post:
– – –
She also shows photos of a large granny square that she made previously in her post named Granny is No Square
---
On the Adventures of the Gingerbread Lady blog, The Gingerbread Lady, in Germany, shows us several photos of colorful granny squares collected in a basket, (waiting while she decides what to do with them). Enjoy her colorful photos and maybe post a comment with your thoughts and ideas in response to her question where she says "what should I do with them?" I bet she'd enjoy hearing from some of you.
– – – That blog post:
---
At The Sunroom blog, this crocheter in Scotland posted a Flower Granny Square Free Pattern, complete with lovely photos of the rounds for the center and making it become a square while crocheting the last few rounds. She also shows a photo of these flower granny squares joined into a pretty afghan.
---
Explore more about granny squares with these books (there are links for more information on each title):